Crodra is a fictional character in the NeuTriVon universe who is the older, foster brother of Reptile. He is the main adversary of Reptile as well. Crodra is also the foster brother of Molly. Crodra is portrayed by Larry Hinson III, the same actor who plays Reptile. Crodra made his live-action debut in the form of a cameo in a post-credit scene of That's a Mad Mad Mad Mad Reptile in the second episode of the second season. He is set to make his movie debut in Reptile V Crodra where he will be the main antagonist.
Personality
Crodra has an even more short temper compared to Reptile. Crodra is known for being extremely jealous, bitter. When Reptile first came to the family, Crodra didn't like how his parents paid more attention to Reptile and not himself. Crodra feels that he's justified in his after the years of neglect he got from his foster family.
Background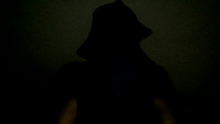 The background of Crodra is unknown. Even though he was briefly mentioned in Reptile, no one knows much about him except for the fact that he is a black sheep. His current status is alive. However, his location is unknown and he keeps his information confidential. No one knows what his real name is. It's also said that Crodra knows how to cover up his crimes better than the Violent Ducks.